We have chosen a new Minister!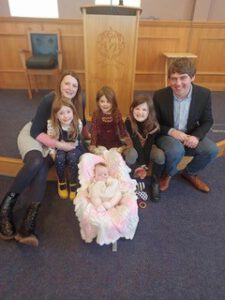 David, Barbara, Hannah, Grace, Chloe and Phoebe
We are excited to announce that Mr David Morrison, Assistant at Scrabo will be the next minister of Killead and Loanends.  A joint congregational meeting was held last night, Tuesday 21st June, at Killead under the supervision of the Presbytery Vacancy Commission. Following two ballots, those present made the decision to call Mr David Morrison, currently Assistant at Scrabo, to be the Minister for Killead and Loanends and Mr Morrison has accepted.  We give thanks to Almighty God for the unity in this meeting and for the clear direction we now have in the next stage of our two congregations' history and ministry.
So what happens next?   Well, the "Call", a document signed by the two congregations must be presented to a special commission meeting next week and then it will be transported to Ards Presbytery where Mr Morrison will be formally invited to accept this.
Following those formalities, David, Barbara and their children, Hannah, Grace, Chloe and Phoebe will move into the Killead Manse, and David's ordination and installation will take place.  More details will follow once times and arrangements are confirmed.   For the meantime, we will continue to have the support from the various senior ministers who have taken our services in the last 12 months and the Rev. Eddie McDowell, our current vacancy convenor will continue to support the two Kirk Sessions.
Please continue to pray for the joint charge during this period of vacancy, that the Convenor and Kirk Sessions would be blessed in every thing  they do in preparation; that we learn from the speakers who are supporting us.