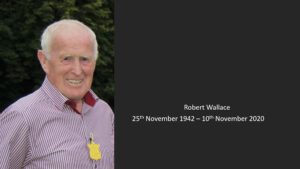 We were all extremely saddened to hear of the sudden death of our friend and brother in Christ, Robert Wallace.  Our sincere sympathies go out to Joan, Linda, Helen and Karen and the wider family circle.
Due to Covid 19 restrictions, many of his friends and family circle were unable to attend the service.  The Service may be found here.
https://www.youtube.com/watch?v=KUjfq66qbHA
Robert will be missed by us all.